Student Activities
Student Activities
The Department of Public Administration and Public Policy (PPAD) prepares students to pursue challenging career paths by creating an academic experience that interweaves theoretical study with hands-on learning. Students are encouraged to apply for and participate in internships throughout their period of study, and PPAD supports experiential learning by fostering connections with practitioners in the field who can offer valuable insights and regularly organizing events, field study opportunities, and trips.
For more information on PPAD's distinctive student activities, make sure to explore our annual report here
Internship Opportunities
Examples of the immersive internship opportunities offered to students include the following:
The department regularly offers an internship course (PPAD 5198) during the summer semesters. Coordinated and taught by Dr. Marwa El Daly, this course provides students with the opportunity to develop real-world professional working experience as full-time interns for a variety of nonprofit organizations, CSR departments, social ventures, and governmental development bodies. Previous host organizations have included prestigious entities such as Care Egypt, Save the Children, the UNDP, Ashoka Arab World, Egypt's Ministry of Social Solidarity, and Drosos Foundation.

In 2021, a training program is launched as part of a collaboration between the Diplomatic Institute of the Ministry of Foreign Affairs, the School of Global Affairs and Public Policy, and PPAD. This program engages 30 AUC students, who get the opportunity to familiarize themselves with the work of the Foreign Ministry and the nuances of a career in diplomacy.

The Department of Public Administration offered a summer internship course (practicum) PPAD 5198 given by Marwa El Daly (Adjunct Faculty) to provide students the opportunity to engage as full time interns in actual professional working experience in a distinct group of nonprofit organizations, corporate social responsibility departments, social ventures as well as governmental development bodies. A total of six students from various disciplines engaged in this 6-week course dedicating over 160 hours of work over the course of their practicum.
| | |
| --- | --- |
| | |
| | |
Course-Based Excursions and Site Visits
Throughout their academic experience with PPAD, students have the unique opportunity to immerse themselves in the world of public management and policy making through excursions and site visits organized by faculty and tailored to specific course curricula.
Examples of previous excursions include the following:
In Fall 2018, as part of the course "Human Resource Management in Public and Nonprofit Organizations" taught by Shahjahan Bhuiyan, a group of students visited the Ministry of Planning, Monitoring, and Administrative Reform to understand how human resource management (HRM) operates in practice in public sector organizations.

In Spring 2019, as part of the course "Promotion of Local Economic Development," Khaled AbdelHalim organized a field trip to Fayoum. The visit included meetings with the governor and other departments, as well as visits to economic activity sites, such as the Kom Osheem industrial zone, Shakshouk fishermen village, and pottery studios at Tunis village.

Graduate students in the course "Nonprofit Management," taught by Shahjahan Bhuiyan, had the chance to visit AlHassan Foundation, a nonprofit organization dedicated to advocating for and providing services to people with disabilities, to understand how a nonprofit organization operates in Egypt.

In 2018, Khaled AbdelHalim organized the "Know Thy Country" trip to Sohag, as part of the course "Local Economic Development." The main objective of the visit was for students to evaluate the process of local economic development in the governorate. The visit included field visits to the Cow Breeding Project in Deabat, the handicraft cluster in Akhmeim, touristic sites such as Akhmiem Temple and the Hawawiesh Cemeteries, and the industrial zone in Kaother. The group also met an investor association, the manager of the industrial zone and the governorate's local economic development team.
| | |
| --- | --- |
| | |
| | |
Mini-Workshops and Events
Each year, the department also curates a series of workshops, panel discussions, and lectures that prompt students to reflect on critical topics in public policy and administration, as well as provide exclusive networking opportunities for PPAD students to engage with accomplished professionals in the field.
Examples of previous workshops include the following:
In 2019, as part of the course "Nonprofit Management," PPAD organized a mini-workshop for students to reflect on their experience visiting Alhassan Foundation. Students made presentations on the foundation's three focus areas and offered recommendations on how the organization could improve its operations. Two senior officials from Alhassan Foundation and the Executive Director of Maghrabi Foundation, Mohammad Shalaby, also spoke at the workshop.
Examples of previous guest lectures include:
"The State of Egypt's Macro Economy" Sara Alnashar, Economist at the World Bank in Egypt

"Decentralization in Africa" Paul Smoke, Global Scholar on Decentralization and Director of International Programs at New York University

"Establishing and Implementing Transformational Community-led Development Programs: The Case of Egypt" Menghestab Haile, Country Director and Representative of the World Food Programme

"The UN Peacebuilding Architecture" Ihab Awad, Egypt's Ambassador to Nigeria and Former Deputy Assistant Foreign Minister for UN Affairs

"Arms Control as Conflict Management: The Case of Iran and the United States" Ambassador Seyed Hossein Mousavian, Former Iranian Diplomat and Iran's Lead Nuclear Negotiator; Currently Visiting Scholar at Princeton University
Student Competitions
PPAD is committed to equipping students with the skills and knowledge to distinguish themselves as change leaders in the global public policy and administration ecosystem. In order to prepare graduates to apply their learnings in the real world and enter the global job market, the university provides countless opportunities for students to engage in international events and competitions.
The NASPAA-Batten Student Simulation Competition is an annual event that challenges graduate students in the fields of public policy and administration from around the globe to design innovative solutions to pressing societal challenges. Each year, PPAD students have participated and showcased their high-level skills at the competition, gaining the opportunity to travel to international competition sites.
PPAD was selected as a global host site for the 2019 competition centered on the topic of "Host Nations: A Refugee Simulation." Two AUC groups received recognition as regional winners, and one was announced the third-place global winner. Built specifically for students of public policy, Host Nations: A Refugee Simulation is a web-based experiential learning tool. Taking on roles such as Prime Minister, Minister of Labor, or Minister of Health and Human Services, players will work in teams to manage a migrant influx. Each player will be in charge of a distinct policy portfolio and the decisions they make will affect not only their own country but the other teams' as well. The game challenges participants to weigh human rights, integration, and GDP growth against budget restrictions and political resistance. Teams will be evaluated on simulation scores, negotiation skills, and presentations made to regional site judges. A panel of prominent "super judges" will determine the global winner and award $5,000 USD in prize money.
In 2021, PPAD also celebrated AUC students' recognition as the third runner-up team at the final global round of the competition.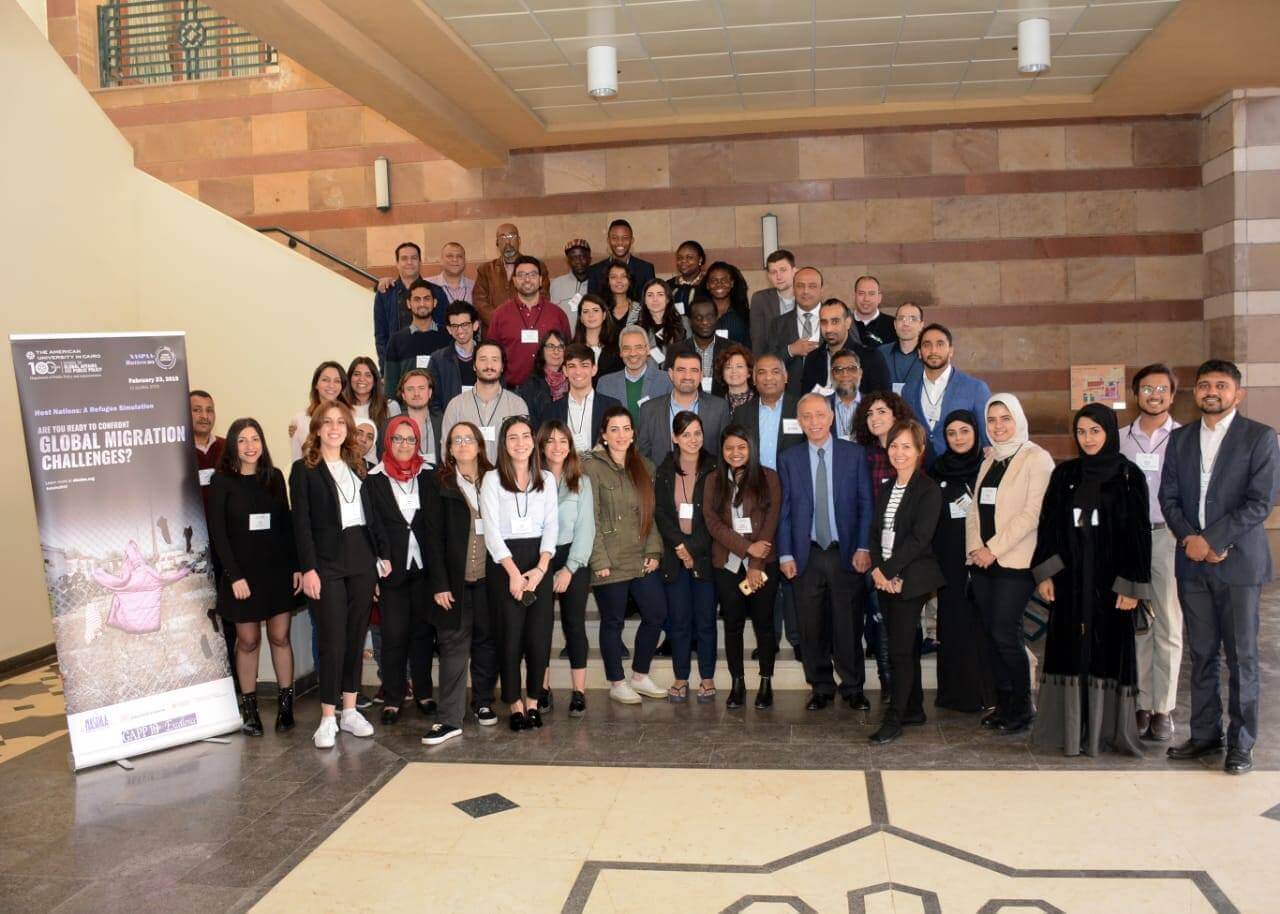 Student-Alumni Networking
PPAD is dedicated to cultivating strong ties between its student and alumni communities, continuously carving out spaces for networking and hosting events to help current students leverage the learnings of former graduates.
Examples of student-alumni networking opportunities include the following:
Virtual Panel: "Hear What Three MPA Graduates Did with Their Careers": In 2021, the department organized a panel discussion moderated by PPAD chair Ghada Barsoum and featuring three alumni to highlight the career paths available to graduates.
PPAD Alumni Iftar (2018): The department organized a PPAD Alumni Iftar on AUC Tahrir Square. The event was a great success, attended by a large number of alumni, PPAD faculty members, and the dean of the School of Global Affairs and Public Policy. During the event, alumni had the chance to introduce themselves and discuss their careers with attendees