Student Activities
- PPAD encourages students to prepare for challenging careers by combining academic study with hands-on learning experiences. Students are encouraged to apply for and participate in internships, and many gain valuable knowledge and experience by participating in field study/trips organized by PPAD and GAPP.
- The Department of Public Administration offered a summer internship course (practicum) PPAD 5198 given by Dr Marwa El Daly (Adjunct Faculty) to provide students the opportunity to engage as full time interns in actual professional working experience in a distinct group of nonprofit organizations, corporate social responsibility departments, social ventures as well as governmental development bodies. A total of 6 students from various disciplines engaged in this 6-week course dedicating over 160 hours of work over the course of their practicum.
- Course-Based Excursions and Site Visits
Part of the Human Resources Management in Public and Nonprofit Organizations course (Fall 2018), a group of students visited the Ministry of Planning, Monitoring, and Administrative Reform to understand how human resources management (HRM) operates in practice in public sector organizations. This was an opportunity for them to collate between theory and practice in the context of Egypt. Two senior officials discussed the human resources system of the Ministry and answered various questions of the students. The visit was facilitated by the course instructor and Associate Professor of PPAD Dr. Shahjahan Bhuiyan.
Part of PPAD 5135 Promotion

of Local Economic Development

Dr. Abdel Halim organized a field trip in Spring19

to Fayoum governorates, meeting the governor and related departments and visiting economic activities sites such as Kom Osheem industrial zone, Shakshouk fishermen village, pottery handcrafts at Tunis village.
Graduate students in the Nonprofit Management class visited the AlHassan Foundation, a non-profit organization dedicated to disabled people, to understand how a nonprofit organization operates in practice in Egypt. The course is taught by Dr. Shahjahan Bhuiyan, Associate Professor of the Department of Public Policy and Administration and GAPP Associate Dean for Undergraduate Studies and Administration.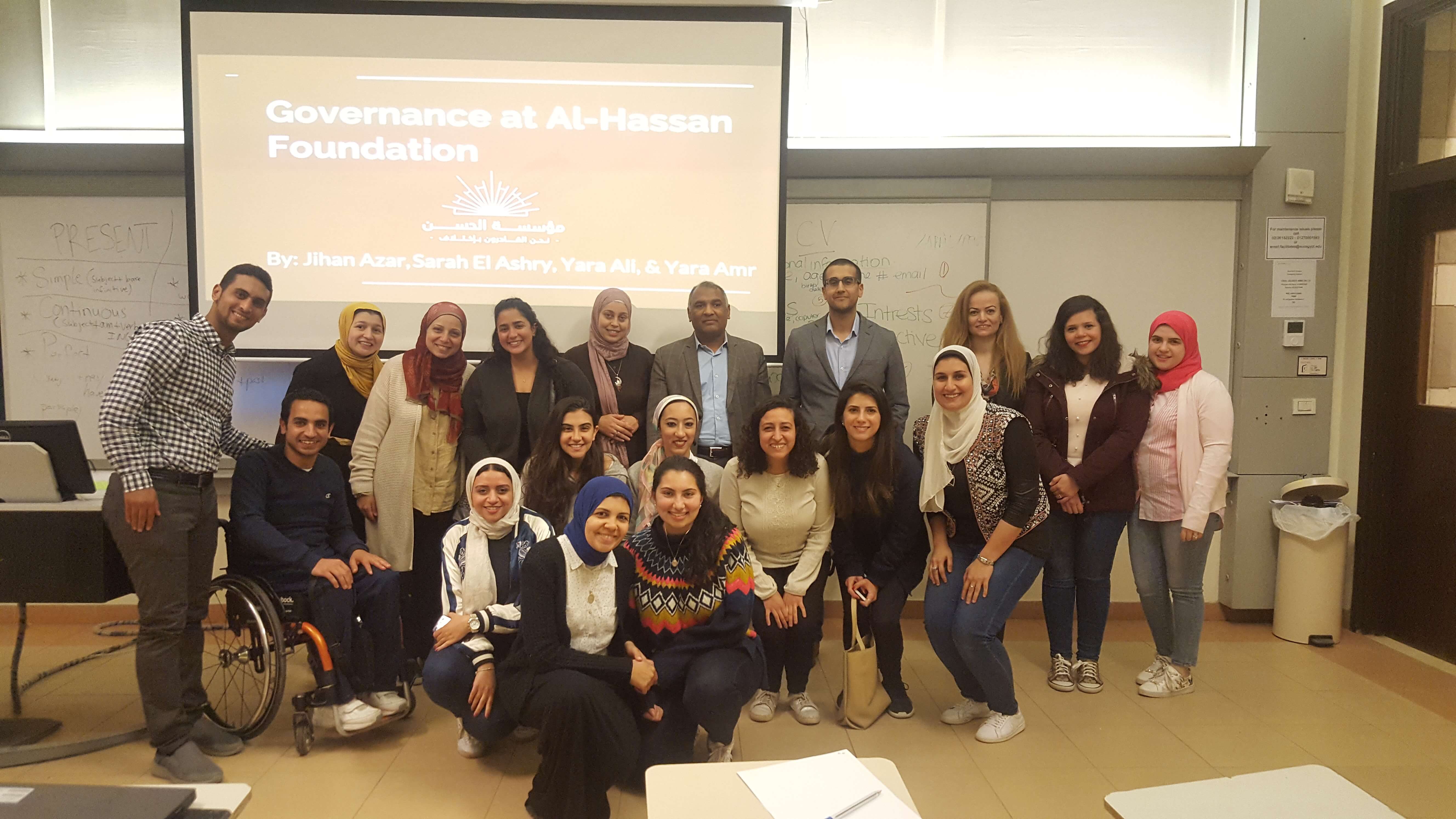 - Mini-workshops
On April 15, 2019, the Nonprofit Management class (Spring 2019) of the Department of Public Policy and Administration (PPAD) organized a mini-workshop to reflect the students' recent experience of visiting Alhassan Foundation, a non-profit organization dedicated to people with disabilities, to understand how a nonprofit organization operates in practice in Egypt. Students made their presentations on three key areas of the Foundation and they are Human Resources Management, Financial Management, and Governance and have suggested ways and means how to further improve their operations. Two senior officials of the Alhassan Foundation and the Executive Director of the Maghrabi Foundation, Dr. Mohammad Shalaby, also spoke in the workshop.  
- NASPAA Simulation Competition
PPAD was selected as a global host site for the 2019 NASPAA-Batten Student Simulation Competition which took place on Saturday, February 23, 2019. Graduates from seven universities (The American University in Cairo, The American University of Beirut, AlQuds University, Mohammad Bin Rashid School of Government, National Law School of India University, Shanghai University of Finance and Economics, School of Public Policy Central European University) participated in the competition. The topic for the 2019 competition was "Host Nations: A Refugee Simulation". This is the second time NASPAA held this competition in the MENA region. In the previous years, a number of our students have participated in other competition sites. 
Two groups have been announced regional winners from AUC site. One of these groups was then announced as a third place global winner. The winners' names are: Ridhi Varma (National Law School of India University), Swathi Krishnamoorthy (National Law School of India University), Kshitj Singh (National Law School of India University), Misha Singh (National Law School of India University), Sandip Sahoo (National Law School of India University).
Built specifically for students of public policy, Host Nations: A Refugee Simulation is a web-based experiential learning tool. Taking on roles such as Prime Minister, Minister of Labor, or Minister of Health and Human Services, players will work in teams to manage a migrant influx. Each player will be in charge of a distinct policy portfolio and the decisions they make will affect not only their own country but the other teams' as well. The game challenges participants to weigh human rights, integration, and GDP growth against budget restrictions and political resistance. Teams will be evaluated on simulation scores, negotiation skills, and presentations made to regional site judges. A panel of prominent "super judges" will determine the global winner and award $5,000 USD in prize money.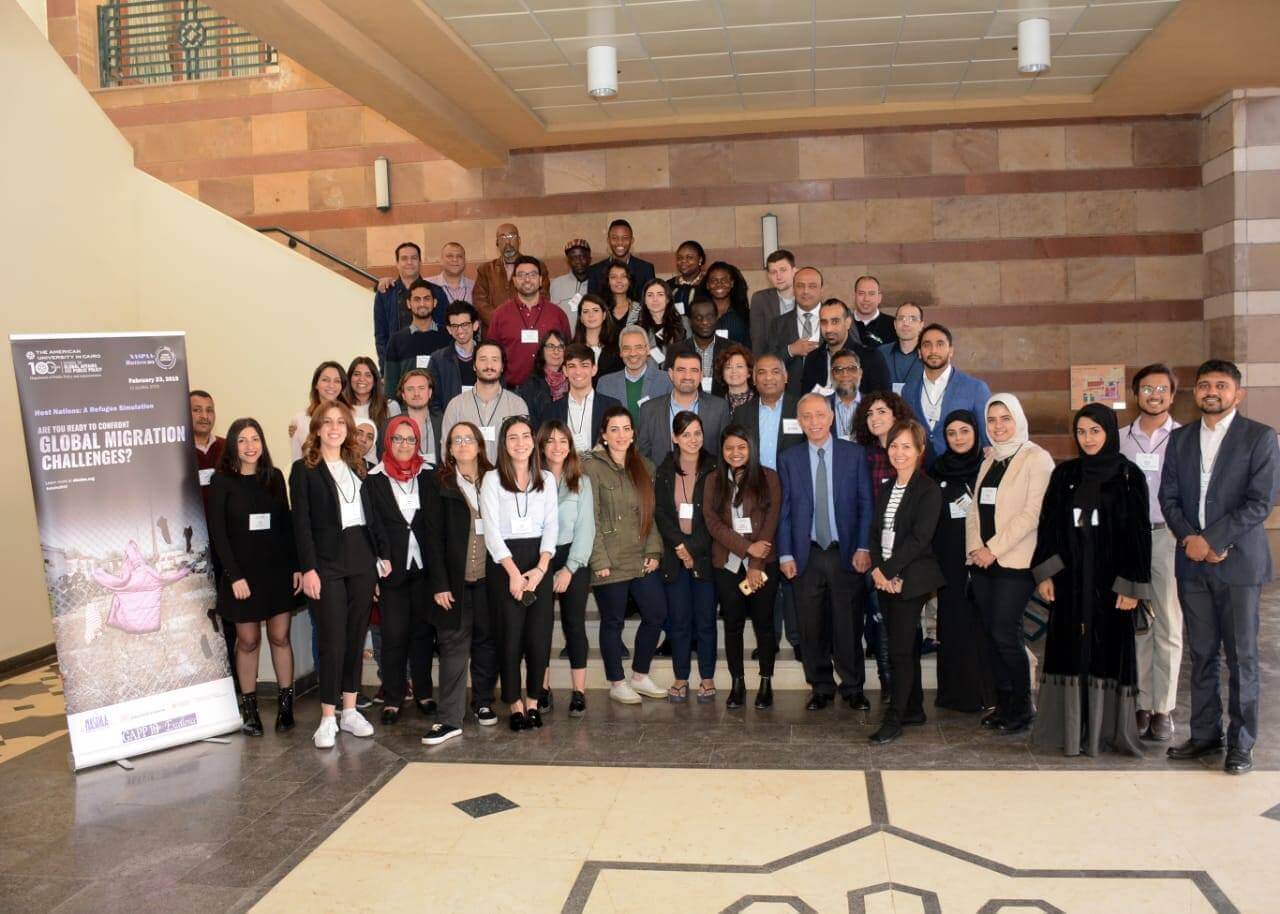 - Student/alumni networking event in the evening of November 26, 2018
- PPAD Alumni Iftar - May 22, 2018
The department organized its PPAD Alumni Iftar on May 22nd in the Oriental Hall, AUC Tahrir campus. It was of a great success and was attended by large number of alumni, PPAD faculty and the dean of the school.
Students also had the chance to present themselves and shared their career experience with the attendees.
- "Know Thy Country" 6 trip to Suhag - March 30 - 31, 2018
In collaboration with Dr. Khaled Abdelhalim; Assistant Professor of Urban Policy in the department. Within his class; Local Economic Development Course, Dr. Khaled is taking his students to Sohag Governorate. The main objective of the visit was to evaluate the local economic development process in Suhag. 
The visit included Filed visits to; Caw Breeding Project in Deabat, the handicraft cluster in Akhmeim, touristic sites (Akhmiem Temple – Hawawiesh Cemeteries), the industrial zone in Kaother. The group also met the investor association, the manager of the industrial zone and the governorate LED team.