The Egyptian Migration Hub (EHUB)
The Egyptian Migration Hub (EHUB)
Migration is an important cross-cutting topic in Egypt and has been for many years. As the global and regional discussions and interest around migration have grown, the Center for Migration and Refugee Studies (CMRS) of the American University in Cairo (AUC) and the European Union Delegation to Egypt, as partners of the Government of Egypt in the sector, are bringing together in a joint initiative, the Egyptian Migration Hub (EHUB), all stakeholders in the country in order to share their experiences, to build confidence, and to form a common baseline of understanding of the context and the policy options available.
CMRS officially launched the EHUB to the public and all relevant stakeholders in June 2022. The EHUB will bring together academics, practitioners, and government officials to discuss important topics of migration governance in Egypt and the region. It will also support these actors in the governance process; as well as support the exchange of experiences and information amongst high-level decision makers. In the first phase of the project, four Forum Sectoral Meetings will be organized with relevant stakeholders on the issues most affecting migration to and from Egypt with its aim to increase cooperation amongst stakeholders, as well as maximize the positive aspects of migration for Egypt.
The first sectoral meeting on 'Migration Data' was organized on July 3, 2022 and was moderated by Ayman Zohry, a demographer and an expert on migration issues. A media training directed to journals and other relevant stakeholders will be organized in the framework of EHUB in November 2022.
Two General Forum Meetings will also take place with high-level government officials and heads of INGOs, NGOs, and the United Nations on Migration Governance.
Finally, a Podcast will be recorded with experts on migration in Egypt in both Arabic and English to reach a general audience on a variety of migration-related issues.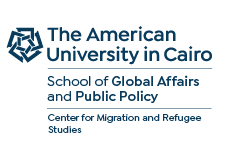 AUC New Cairo, AUC Avenue, P.O.BOX 74, New Cairo 11835, Egypt
School of Global Affairs and Public Policy (GAPP), The American University in Cairo
email: EHUB@aucegypt.edu