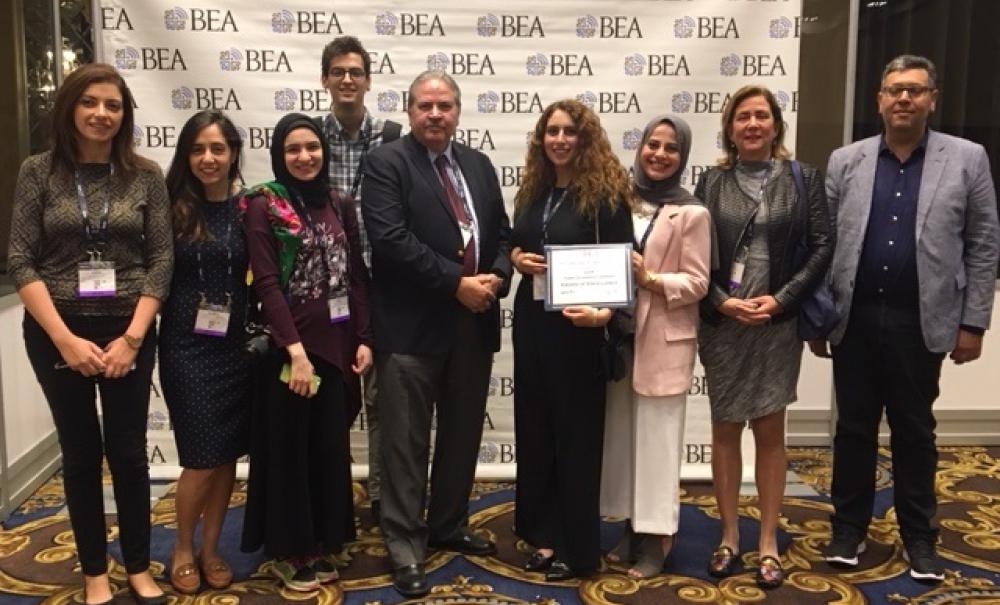 Adham Center participates in BEA 2018
Adham Center participates in BEA 2018
BEA 2018 , Las Vegas, Nevada - The Kamal Adham Center and its affiliates made great contributions and actively participated in this year's Broadcast Education Association BEA 2018:
- For the first time, the Kamal Adham Center for Television and Digital Journalism and the American University in Cairo participated in the Broadcast Education Association's Graduate Program Showcase with a recruitment booth for graduate students. AUC was the only non-US based institution showcasing its graduate program in Television and Digital Journalism to prospective applicants. It was also a great opportunity for collaborative discussions with schools offering similar programs.
- Adham Center graduate student Heba Fouad participated in a panel titled, "From Page to Stage: Using the News to Create Art" that discussed the steps in creating docudrama, oral history, and storytelling projects, exploring research options, and sampling new presentations. The panel's moderator was Frank Barnhart, from Columbus State Community College, and panelists were Frank Barnhart, Columbus State Community College; Melony Shemberger, Murray State University; Elycia Taylor, Columbus State Community College; Serena Carpenter, Michigan State University; and Heba Fouad, The American University at Cairo.
- Adham Center Director Dr. Hussein Amin participated in a panel titled, "The Misuses of Social Media in the Arab World" to discuss how the arrival of the social media world has changed the way people in the Arab world communicate. The panel's moderator was Douglas A. Boyd, University of Kentucky. Dr. Amin spoke about ISIS' Social Media Strategies as one of the "dark sides" of social media, researching instances where these media are misused.
- Adham Center affiliate Dr. Rasha Allam, Assistant Professor and Associate Chair, Department of Journalism and Mass Communication, the Center Director's Executive Assistant and Researcher, Salma El Ghetany, and alumnae Salma Nader Galal participated in the Apple Workshop: Mobile Storytelling on iOS. Apple techs provided a hands-on workshop focusing on the use of iPads and/or iPhones to edit and complete a mobile workflow. The session included organization, shooting, editing and utilizing third-party products to complete the storytelling process. By the end of the workshop, a screening of completed projects was held where both El Ghetany and Galal won awards for best creative and well packaged short stories. The award included a patented Apple Iographer kit (iPad stabilizer, tripod and Rode mic).
- Adham Center alumni Hagar Hassan Adss and Salma Nader Galal (class of 2017) won an award of excellence in the BEA's Festival of Media Arts. Their documentary "Who Brought it to Life" won in the short-form video category. Adss and Galal's documentary was among a record 1,541 film submissions to the entire competition. Their work ranked in the top 20% of the category they entered. Adss and Galal were the only Arab awardees in this category.
- Adham Center Director Dr. Hussein Amin and affiliate Dr. Rasha Allam, participated in a panel titled, "The Abuse of Fake News and the Manipulation of the Public in the Middle East,"
on how fake news has gained attention across the world. The panel discussed regulation, freedom of speech, and technology, as potential ways of dealing with a global problem manifested in the Middle East. Dr. Amin moderated the panel and delivered a presentation on "Fake News and its Impact on Arab Audiences"; Dr. Allam's presentation was on "Fake News in Egypt: Evaluating the Proposed Responses."
- Adham Center Director's executive assistant and researcher, Salma El Ghetany, participated in a session titled, "Graduate Student Research Presentations: Grand Plans & Great Expectations" with a digital poster on her thesis research entitled, "The Challenges and the Policies of Media Literacy Education in Egyptian Schools."