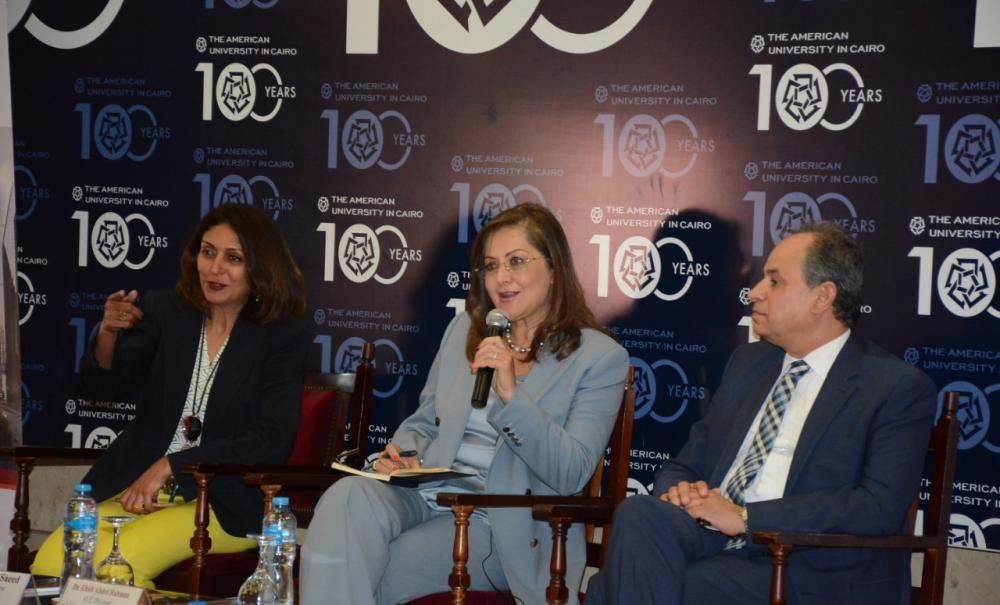 Minister Hala Elsaid Visits First Two Cohorts of the Leadership for Government Excellence Program
Minister Hala Elsaid Visits First Two Cohorts of the Leadership for Government Excellence Program
The Leadership for Government Excellence (LGE) is a tripartite program between the Ministry of Planning, Monitoring and Administrative Reform (MoPMAR), the American University in Cairo (AUC), and King's College London (KCL). It is delivered under the umbrella of Egypt's Sustainable Development Strategy 2030 and the Administrative Reform Plan to provide personal awareness, organizational impact and system alignment to enable select government leaders to transform their organizations of public service.
Each cohort of 30 participants receives two months of training at AUC, and one month at KCL. AUC Provost Ehab Abdel-Rahman described how this high-level integrated program, which is already one year in the planning, was carefully built with the aim of qualifying the participants technically, professionally and personally to carry out their duties and responsibilities. Cohorts 1 and 2 completed one month at AUC and are currently at KCL; while Cohorts 3 and 4 commenced at AUC on August 25, 2019.
During her visit to AUC to meet with participants, H.E. Dr. Hala El Saied highlighted the significance of the program to the implementation of the vision of Egypt 2030 which aims at achieving an efficient, effective and sustainable governance system capable of operating with professional world-class standards for public service.
The first week of LGE is dedicated to national alignment topics to form a clear vision of the nation's transformative efforts: Egyptian Constitution, New Administrative Capital Vision, Administrative Reform Strategy and Implementation, Code of Ethics, Sustainable Development Strategy 2030, Africa 2063, which are all tied up to sessions on creating public service value. Speakers during the first week include Dr. Hussein Eissa, head of the parliamentary budget and planning committee, and Dr. Ghada Labib, Deputy minister, MoPMAR.
LGE then continues to deliver topics on governance and public policy analysis, strategic management, comparative government systems, government in the age of machines, public sector management, effective communication, leadership, and institutional reform. Throughout the program, participants work in groups on an innovative project that their ministries may implement in the New Capital.