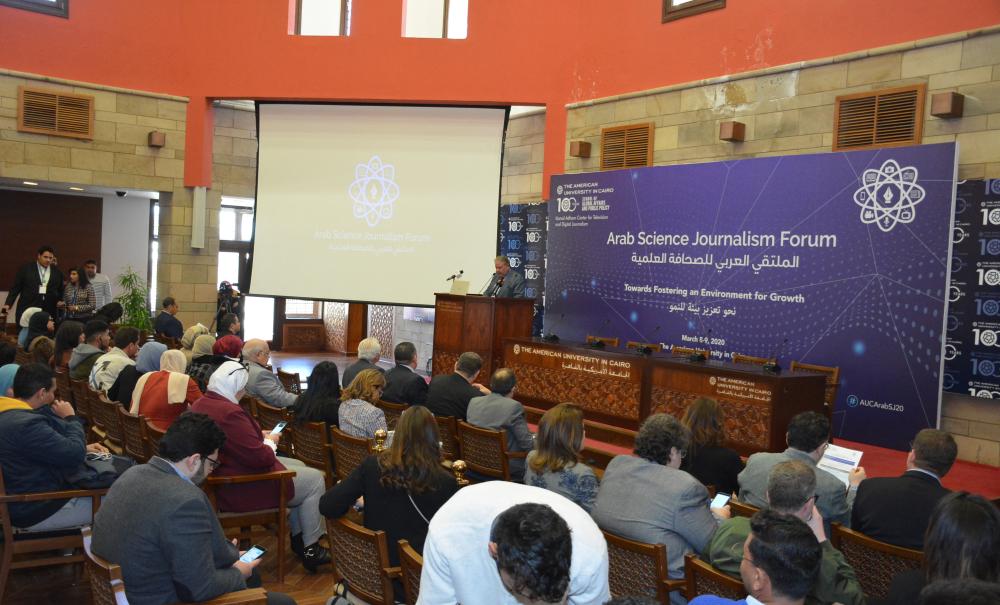 The Kamal Adham Center for Television and Digital Journalism Hosts the Arab Science Journalism Forum
The Kamal Adham Center for Television and Digital Journalism Hosts the Arab Science Journalism Forum
On March 8-9, 2020, the Kamal Adham Center for Television and Digital Journalism, in the School of Global Affairs and Public Policy, together with the office of the Associate Provost for Research, Innovation, and Creativity, organized the Arab Science Journalism Forum titled Science Journalism: Towards Fostering an Environment for Growth. The opening of the two-day event included remarks by H.E. Minister of Information, Osama Heikal; AUC President Francis Ricciardone, Adham Center Director and Forum Chair Hussein Amin, and Associate Provost Alaa Eldin Adris. The forum included plenary lectures by key figures in the field of science communication and journalism, including Mariette Di Christina, Dean of Boston University College of Communication and former Editor-in-Chief of Scientific American, who delivered her lecture via video streaming; Ehsan Masood, Editorials Editor and Bureau Chief for Africa and the Middle East at Nature magazine; Carolyn Unck, Managing Editor of KAUST Discovery magazine, who also delivered an e-lecture; and award-winning journalist, virtual reality researcher, and MIT Knight Science Journalism Fellow, Pakinam Amer. The forum's activities also included a strong lineup of speakers and research paper presenters participating in a variety of sessions including panel discussions, workshops and paper presentations. Topics addressed include how the media coverage of the current COVID19-Coronavirus is being digested by the public in Egypt; how scientific literacy is key as a means to combat the constant flow of rumors and misinformation in scientific fields; the relationship between science and religion as is portrayed in the media; how freelance journalists can better prepare for covering science-related topics; the role of data analytics in making sound journalistic decisions; how digital content platforms are investing in and presenting issues relating to science and medicine to the general public; how niche publications such as SciDev, Nature, and others can simplify the sciences to cater to the general public; in addition to a status report on the perceptions, consumption, and content pursuant to science journalism in the Arab world. The speakers also addressed key issues such as new media, artificial intelligence (AI), virtual and augmented reality, and the ethics associated with them when presenting science-related content. Capacity-building needs and other challenges facing this growing field in Egypt, the region and the world were also addressed.
The Forum also featured a Science and Innovation Walk under the Moataz Al Alfi pergola, where different science and journalism-related entities displayed their work and activities. Exhibitors included: Popular Science, SciDev, Nature and For Science ("Lelem"); the Egyptian Knowledge Bank; the Egyptian Ministry of Education and Technical Education; Egypt Independent; Al Ahram and WE telecommunications.
The forum was well attended by faculty members from AUC and other national and private universities; students, media professionals, and journalists. It received wide media coverage in both digital and print media.
For the video click here