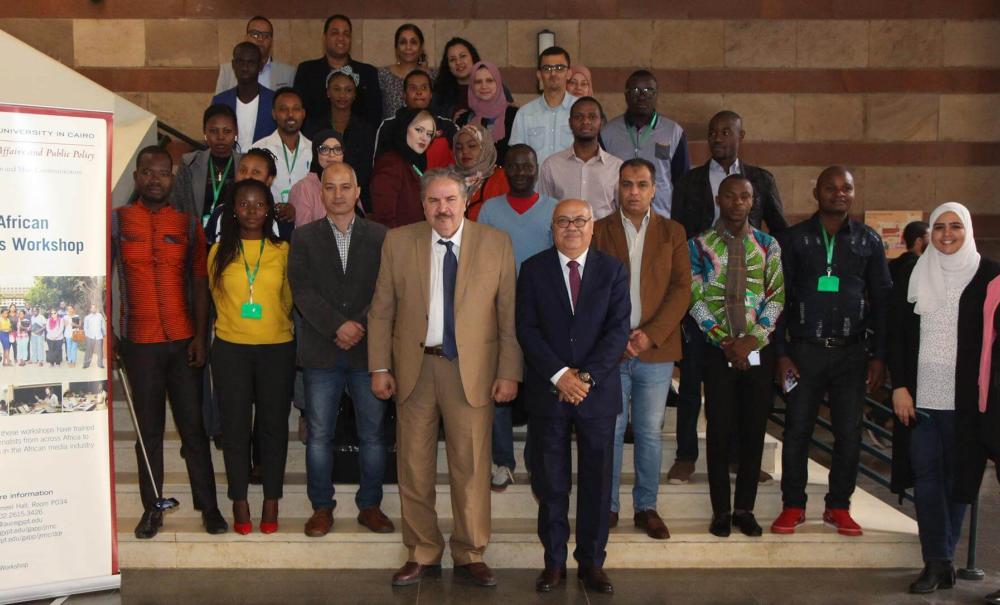 Kamal Adham Center and Department of Journalism and Mass Communication Hold 53rd African Journalists Workshop
Kamal Adham Center and Department of Journalism and Mass Communication Hold 53rd African Journalists Workshop
The Kamal Adham Center for Television and Digital Journalism and the Department of Journalism and Mass Communication organized the 53rd African Journalists Workshop in association with the Union of African Journalists on last Monday.
The journalists who attended the one-day workshop came from around 20 countries across Africa namely Morocco, Algeria, Cameron, Tunisia, Cote d' Ivoire, Democratic Republic of Congo, Ethiopia, Kenya, Gabon, Malawi, Mali, Mauritania, Namibia, Nigeria, Niger, Rwanda, Senegal, South Africa, South Sudan, Sudan, Uganda, Zambia, Benin, Burundi, Chad, Togo, and Ghana.
The workshop included sessions on Print Media Research, Science Journalism, as well as Print Media Management delivered by Hussein Amin, professor and director of the center, Heba El Shahed, adjunct faculty at the JRMC department, and Rasha Allam, assistant professor and associate chair at the department.
The bi-annual workshop comes within the framework of UAJ's and JRMC's role to train African cadres in the field of journalism to benefit all African countries. The training program that was launched in 1992 under the supervision of Amin, has now developed into a network of journalists who have been trained at the Department of Journalism and Mass Communication, School of Global Affairs and Public Policy at the American University in Cairo, and work all over African media.