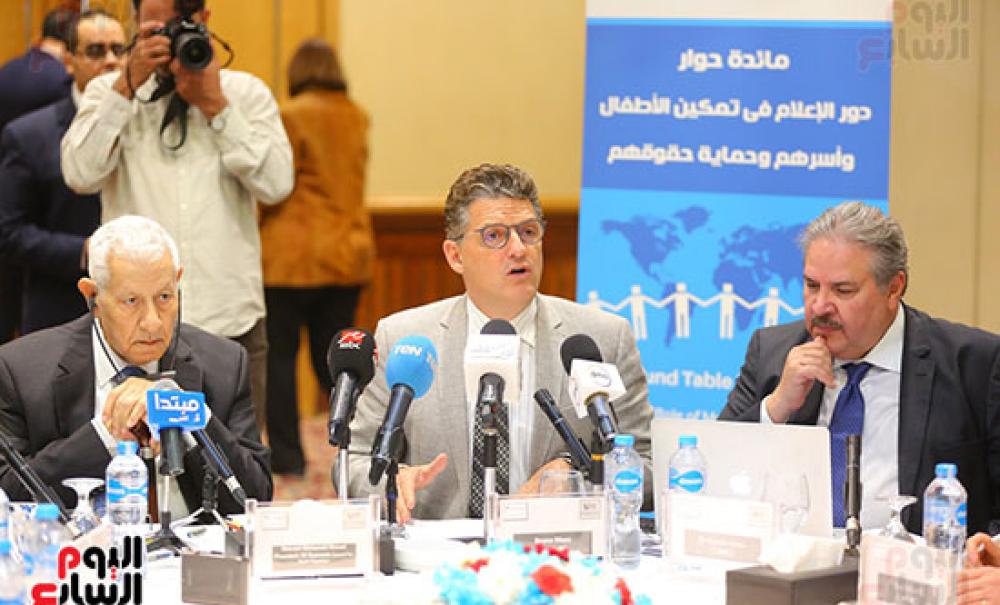 Introducing The newly Drafted Child and Family Media Code of Conduct with UNICEF
Introducing The newly Drafted Child and Family Media Code of Conduct with UNICEF
The Kamal Adham Center for Television and Digital Journalism participated in a media roundtable discussion organized by UNICEF in collaboration with the Supreme Council for Media Regulation (SCMR). Adham Center Director Dr. Hussein Amin, and JRMC Assistant Professor Dr. Rasha Allam participated in the plenary attended by Mr. Makram Mohamed Ahmed, Head of SCMR, Mr. Bruno Mais, Head of UNICEF Egypt office, in addition to media figures, professionals and academics such as Dr. Suzan Killini, Ms. Nadia Mabrouk, Ms. Naila Emara, Mr. Abdel Latif El Menawy, Mr. Mohamed Selim, Mr. Amr Abdel Hamid, Mr. Nashat El Dihi, Mr. Mahmoud Mosallam, Mr. Amr El Leithy, Mr. Hesham Soliman, among others. Dr. Khalid Habib moderated the discussion.
The purpose of the event was to discuss among key media players the welfare of children and families in relation to media in Egypt, as well as introduce the newly signed memorandum of understanding between UNICEF and SCMR that also includes drafting a Child and Family Media Code of Conduct for media institutions and professionals. One of the main takeaways from the discussions was SCMR's commitment to establish a committee on child affairs within the Council. Another was private channels such as Ten and Al Nahar TV committing to broadcasting two hours of cultural content daily in collaboration with the Ministry of Culture and SCMR.

Dr. Amin spoke about the need for evidence-based research when addressing topics of children in the media. He also introduced to the attendees the Family and Child Media Code of Conduct project that the Adham Center is currently undertaking with UNICEF and SCMR. The code is being drafted and should be available for peer review by the first quarter of 2019. Project manager Ms. Salma El Ghetany, and Project researchers, Ms. Lobna Khairy and Ms. Nur Abo Seada, participated in the discussions.