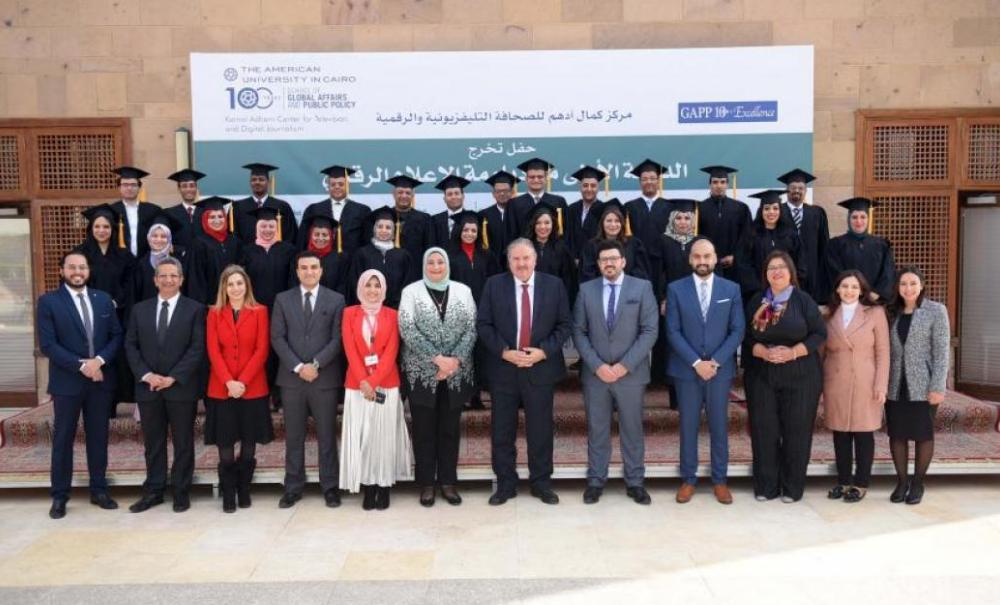 Graduation of First Class of Online Digital Media Diploma in Arabic
Graduation of First Class of Online Digital Media Diploma in Arabic
AUC's Kamal Adham Center for Television and Digital Journalism celebrated the graduation of the first class of the Professional Diploma in Digital Media, offered in Arabic and entirely online.

The media ceremony was presented by Dina Esmat Waly, anchor at DMC channel and Egypt's Channel 1.
Hussein Amin, director of the Kamal Adham Center for Television and Digital Journalism, congratulated the graduating class and highlighted the uniqueness of the diploma with its offerings to participants from all over the Arab world, as the first diploma of its kind in the Middle East and North Africa, in addition to what it represents as a "qualitative shift from the necessity of teaching communication in the era of multiple platforms to the imperative of teaching digital media in the area of knowledge."

Hoda Mostafa, director of AUC's Center for Learning and Teaching was also honored at the ceremony on behalf of the CLT team in appreciation of their support for the diploma. Amin also recognized the trainers and assistants who contributed to forming a new generation of digital media journalists capable of using the latest and most diverse technologies.
A film produced by the diploma graduates was shown at the ceremony., featuring how this diploma helps enhance their skills and shape their careers.
Sameh Abdel Fattah, director of the Public Relations and Media Department at Al-Ghad TV channel, attended the ceremony, along with the trainers and media professionals.
The Digital Media Diploma in Arabic is a yearlong program and applies the latest techniques of distance learning. It consists of five courses: Writing for the Web, Social Media, Data Journalism, Mobile Journalism and Multimedia, in addition to the capstone project, which is a standalone course.

Watch here the video produced by the graduates of the Digital Media Diploma.