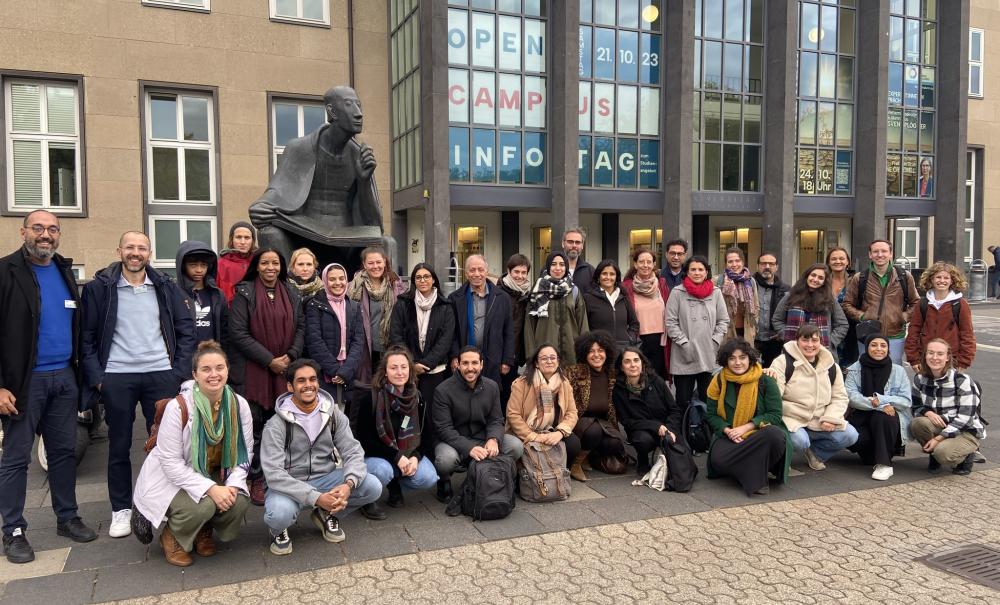 DiaMiGo Project- Joint Exchange Program between CMRS and the University of Cologne
DiaMiGo Project- Joint Exchange Program between CMRS and the University of Cologne
Ten AUC students and six AUC faculty and staff participated in the Dialogue on Migration Governance in the Euro-Mediterranean (DiaMiGo) Fall Academy held at the University of Cologne, Germany. The DiaMiGo Project is a joint exchange program between CMRS and the University of Cologne, from October 16-20, 2023.
The Academy allowed students from both universities to listen to keynote lectures on the topics of Migration Infrastructure(s), Human Mobility and Migration, Migration and Religion, and More than Human Migration. In addition to student exchange groups throughout the week, participants also heard from the work of Sea-Watch, attended a concert from the Göksel Yılmaz Ensemble, and watched the documentary, Blue/Red/Deport, where they were able to ask questions to the main protagonist, Talib Shah Hossaini, a former asylum seeker in the Moria refugee camp in Lesbos, Greece.
AUC students were joined by CMRS Professor and DiaMiGo PI Gerda Heck; CMRS Director Ibrahim Awad; CMRS Associate Director Maysa Ayoub; SEA Professor Amira Ahmed; CMRS Adjunct Refugee Law Professor Ibrahim Abou Sena; and CMRS Senior Researcher and DiaMiGo CMRS Project Coordinator, Elena Habersky.
Thanks to our donor The German Academic Exchange Service (DAAD).