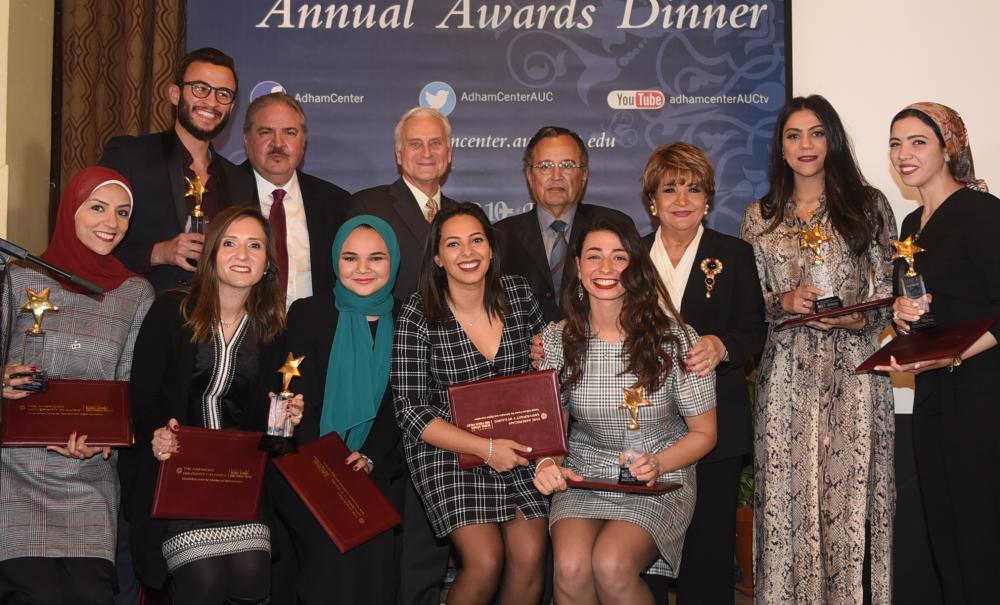 Adham Center Hosts Annual Awards Dinner and Recognizes Sanaa Mansour
Adham Center Hosts Annual Awards Dinner and Recognizes Sanaa Mansour
The Kamal Adham Center for Television and Digital Journalism in the School of Global Affairs and Public Policy at the American University in Cairo (AUC) hosted its annual awards dinner to celebrate the twenty seventh graduating class of the Master's in Television and Digital Journalism program.
Director of the Center, Hussein Amin, welcomed the attendees and introduced AUC President Francis Ricciardone who delivered the keynote address congratulating the graduating class, their families and friends, and Mrs. Sanaa Mansour, the evening's guest of honor. Ricciardone also acknowledged the Center's graduate program recent achievement of receiving equivalency and recognition from the Egyptian Supreme Council of Universities, and also congratulated the Center on its newly launched online Digital Media Diploma, among its other successes since year.
Following the president's opening speech, Dr. Amin recognized this year's Lifetime Achievement awardee, veteran broadcaster Sanaa Mansour, for a myriad of achievements in the fields of television and radio journalism. Mansour addressed the graduating class with words of advice as they prepare to venture into the field of broadcast journalism after completing their studies at the Adham Center. She also spoke about the challenges she faced as a young hardworking presenter in difficult times until becoming an industry household name throughout more than five decades. Dean Nabil Fahmy of the School of Global Affairs and Public Policy presented Mansour with her award.
The graduating class then received their certificates and awards from Dean Fahmy and Dr. Amin. Segments of their capstone projects, consisting of video reports on various current affairs topics and on-campus stories, were screened for the esteemed guests, families, and friends. They then took a group photo with President Ricciardone, Dean Fahmy, Dr. Amin and Mrs. Mansour.
The event, held in AUC's Oriental Hall, was well attended by public figures, media professionals and academics, as well as government representatives. Guests included Mostafa El Feki, Director of the Bibliotheca Alexandrina; Head of the News Sector in the National Media Council Amr El Shinnawi; Head of DMC Channels Hesham Soliman; Owner of Al Nahar Channels Alaa El Kahky; and Chief Operations Officer at Egyptian Media Group Hossam Saleh. Director of the Communication and Social Media Sector for the League of Arab States Hanaa Serour; Director of Egyptian Center for Public Opinion Research 'Baseera' Magued Osman; Chairman of the Department of Journalism and Mass Communication (JRMC) at AUC Firas Al Atraqchi and Assistant Professor in JRMC Department Rasha Allam were also in attendance. Popular television presenters Reham El Sahly, Jasmine Taha Zaki, Noha Abdel Aziz, and Sally Shahin were present. Other guests included media entrepreneur Moody El Hakeem; Journalist and Founder of Arab Media Group Sabry Ghoneim; Editor-in-Chief of El Watan and Chairman of DMC News Channel Mahmoud Mosallam; Head of Nile TV Taghreed Hussein, and Editor-in-Chief of Akhbar Al Youm Newspaper Wafaa El Ghazaly. President of the International Academy for Engineering and Media Science and former Secretary General of the Supreme Council of Universities Salwa El Ghareeb; US Embassy's Press Attaché Maxwell Stoneman, Dean of the School of Mass Communication at Cairo University Heba El Semary; Dean of Faulty of Arts, Ain Shams University and member of National Council for Women Suzan Killini, Vice Dean of School of Mass Communication Cairo University Sherif El Labban, Former Dean of MUST University's School of Mass Communication Hassan Emad Mekkawi, Chairperson of the Department of Mass Communication Helwan University Naila Emara, and Professor of Journalism and Mass Communication and Member of Higher Press Council Mahmoud Alam El Din were in attendance. AUC's Associate Provost for Research, Innovation and Creativity Alaa-Eldin Adris as well as Adham Center Founder Professor Emeritus Abdallah Schleifer were also present.