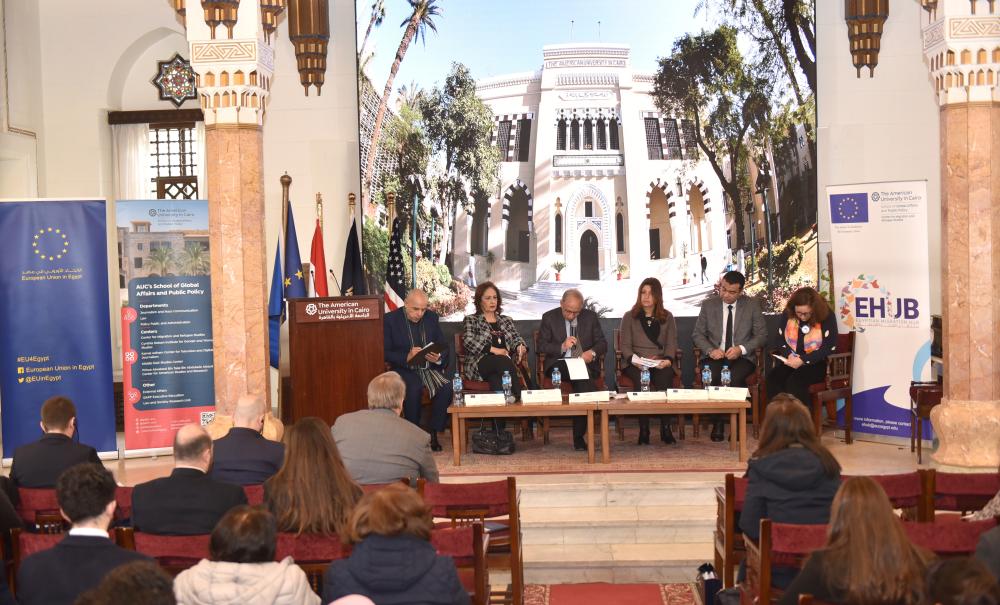 CMRS Hosts the 'High-Level General Forum Meeting' the concluding event of EHUB's 1st phase
CMRS hosted the "High-Level General Forum Meeting" as the concluding event of the first phase of the Egyptian Migration Hub (EHUB) project in Oriental Hall, AUC Tahrir Campus. Funded by the European Union in Egypt and implemented by CMRS, the EHUB, brought together, throughout the last year, all relevant stakeholders concerned with migration in Egypt aiming at sharing experiences, building confidence, and forming a common baseline for discussing the context and the migration policy options and interventions in Egypt.
The meeting was moderated by Ibrahim Awad, Professor of Practice in Global Affairs and Director of CMRS with the opening remarks by Noha El Mikway, Dean of the School of Global Affairs and Public Policy at AUC. Sara Sadek, EHUB Technical Advisor and Adjunct Professor at CMRS, presented key conclusions and recommendations of the four previous sectoral meetings held last year covering the topics of International Migration Data; Protection for Smuggled Migrants and Victims of Trafficking; Skills Matching of Egyptian Migrant Workers in the External Labor Markets; and Enhancing the Socio-economic Conditions of Migrants and Refugees in Egypt.
The following speakers were among the distinguished speakers of this year;
Naela Gabr, Ambassador, Chairperson and Head of Technical Secretariat, The National Coordinating Committee for Combating and Preventing Illegal Migration and Trafficking in Persons (NCCPIM&TIP).

Neveen El Husseiny, Ambassador, Deputy Assistant Minister for Migration, Refugees and Combatting Human Trafficking, Ministry of Foreign Affairs (MFA)

Yasser Ghazy, Director of General Administration for External Representation, Ministry of Manpower (MoM)

Abdelhamid Sharaf, Advisor to the Chairman, Central Agency for Public Mobilization and Statistics (CAPMAS)

Graziella Rizza, Head of Governance Unit, the European Union Delegation to Egypt
Following the above, additional interventions were hosted by Eric Oechslin, Director of the ILO Country Office and Carlos Oliver Cruz, Chief of Mission of IOM Egypt.
The meeting was attended by multiple stakeholders representing government officials, UN agencies, donor agencies, international and national non-governmental organizations, community-based organizations, media and academia.