The Magda Al-Nowaihi Award
The award is a collaborative effort of the Magda al-Nowaihi Committee and the Cynthia Nelson Institute for Gender and Women's Studies (IGWS). The Magda Al-Nowaihi Committee was founded and chaired by Samia Mehrez, professor of Arabic literature, between 2003 and 2006. Subsequent chairs included Robert Switzer, professor of philosophy, and Amy Motlagh, assistant professor of English and comparative literature. The current chair is Martina Rieker, director, IGWS.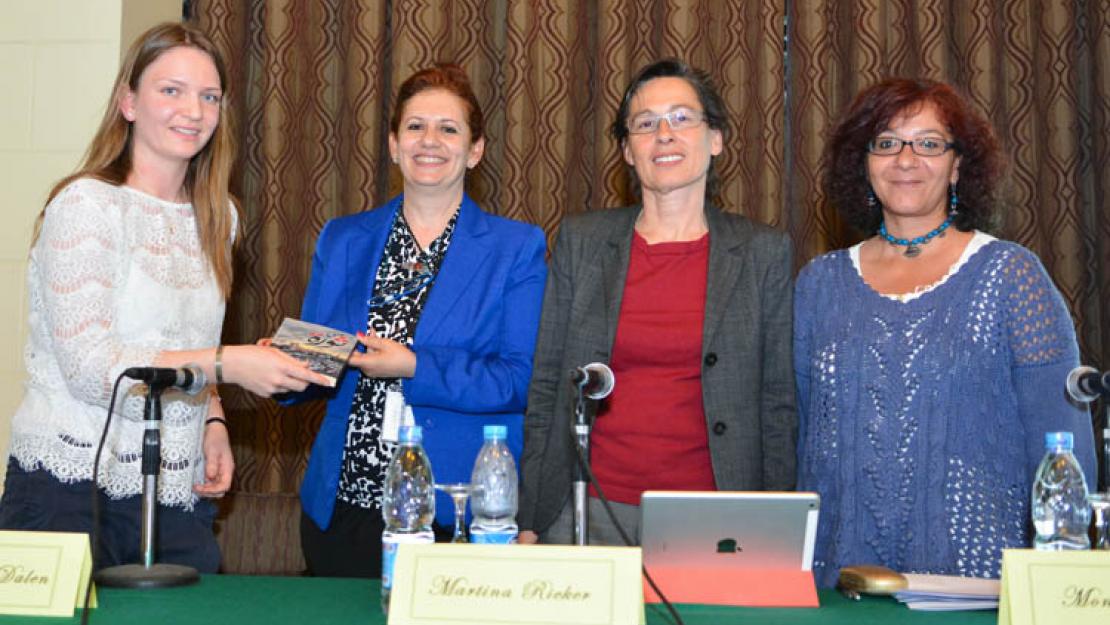 The award was named in memory and in tribute to the lasting contribution of Magda al-Nowaihi to the work of Arabic literature in general and gender studies in particular. It was established in 2003 to fulfill al-Nowaihi's visionary dream of a regional and lasting commitment to the field of gender studies that she firmly believed would further enhance AUC's prestigious record as a leading institution in the Arab World. Magda al-Nowaihi was an alumna of The American University in Cairo (BA in English literature in 1978) and associate professor of Arabic literature at Columbia University, who passed away in 2002.

The award is designed to recognize and honor AUC graduate student theses that focus on gender issues in any discipline. An annual award ceremony is held in the spring semester to commemorate Professor Al-Nowaihi's contribution to the field and to celebrate the award-winning thesis.

The Magda al-Nowaihi Award has brought together some of AUC's most distinguished faculty, whose research and teaching focus on gender-related issues in their respective disciplines. Their commitment to the Al-Nowaihi Award has generated unprecedented interdisciplinary dialogue between them. It has allowed them to explore pertinent issues outside their immediate fields, thanks to the outstanding theses submitted yearly to the committee. The Magda al-Nowaihi Award has also helped highlight the increasing number of theses in gender studies at AUC that is truly at the cutting edge of their disciplines.
Award Recipients
Nada Farag, Institute for Gender and Women's Studies, "Unbearably Ordinary"
Maryam Hisham Fouad, Department of Sociology, Egyptology and Anthropology, "In the Ruins of the Everyday: Cairo and its Abandoned Children in Street Situations"
Ibraheem, Dalia, Department of Sociology, Anthropology, Psychology and Egyptology (SAPE), "Ultras Ahlawy and the Spectacle: Subjects, Resistance and Organized Football Fandom in Egypt"
El Helou, Maya, IGWS,"The UN-Touchables Humans Rights Discourses and the Challenges of Emancipatory Politics in Lebanese Women's Movements"
Van Dalen, Elaine, MESC, Urban Geographies of Romance: Meeting and Mating in Cairo
Barnes, Sydney, SAPE, Categorizing Women: Gender and Social Media During the 2011 Egyptian Revolution
Wulf, Laura, SAPE, Convictions and Ambivalences: Theorizing Power at a Cairene Feminist NGO
Wahba, Mariham, IGWS, The State of Statelessness: Justice, Violence, Subjectivity, and Urban Asylum Seeking and Refugee Women in Cairo
Channaa, Farah, ECLT, Liberating Mothers? The National Resistance Narrative and Femininity
Noha Roushdy, SAPE, Dancing in the Betwixt and Between Femininity and Embodiment in Egypt
Nesrin Helmy Allam, ARIC, Hegemonic Masculinities
Souad Orhan Hussein Hamada, SAPE, Men Selling Sex in Cairo and Alexandria: Perspectives on Male Sex Work and AIDS in Egypt